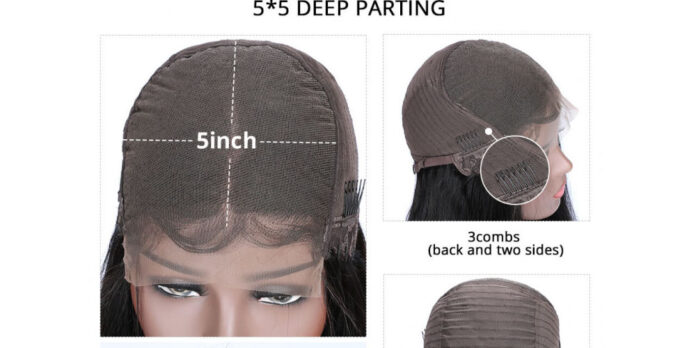 Lace closure wigs come with a lace hair patch on which hair strands are sewn. Lace closure wigs come in various sizes, including 4×4 and 5×5 lace closure wig sizes. A 5×5 lace closure wig is standard among most wig wearers. They provide a natural-looking scalp and can be used on any hair type and by anyone. This write-up discusses the benefits of a 5×5 lace closure wig.
Benefits of 5×5 lace closure wig sizes
The popularity of 5×5 lace closure wigs is directly linked to the benefits they offer. Below are these benefits;
1. Quality
One of the benefits of 5×5 lace closure wigs is that they offer higher quality. For instance, the larger closure gives you more styling versatility. Another indicator of quality is that the wigs provide a natural-looking hairline. The lace closures are usually designed to offer the appeal of a natural hairline or scalp. You can also bleach the lace to make it look like your natural scalp. However, bleaching a lace closure is not as easy as you may assume. Any wrong move could damage the wig. Therefore, it would be wise to hire the services of a professional to maintain the wig quality even after bleaching.
2. Comfort
5×5 lace closure wigs are highly comfortable. They are also incredibly breathable, thanks to their large size. The larger lace makes a wig lighter. However, the comfort levels also depend on the lace used to make the closure and the hair.
3. Affordability
Lace closure wigs are generally highly economical compared to lace fronts. This is because the lace closure only covers a small portion at the top center of your head. Compared to full lace or frontal lace wigs, closure wigs are cheaper as they use less lace material. With a 5×5 lace closure wig, you can get the benefits of a full-frontal lace without paying as much money.
4. Ease of application
5×5 lace closure wigs are also easy to apply, especially using glue. You do not need to apply adhesive on your entire forehead but a small portion where the closure goes. In the same way, they are easy to remove.
5. Who can wear 5×5 lace closure wig sizes?
5×5 lace closure wigs are ideal for people with wider foreheads. The size allows for proportionality. However, even people with smaller and medium foreheads can benefit from this lace closure wig size. People with small foreheads can wear 5×5 closure wigs to cover their hairlines or create new hairlines. In a nutshell, anyone can wear these wigs for various reasons.
Anyone can purchase a lace closure wig from an online or offline store. While offline stores are easily accessible, when it comes to purchasing wigs, you can easily get duped. The trick is to only shop from reliable stores and conduct ample research before purchasing wigs.
Conclusion
When choosing lace closure wigs, apart from the lace closure wig sizes, you can also look into the hair and lace type, length, curls, color, and texture. Your needs should be at the top of your list of considerations.