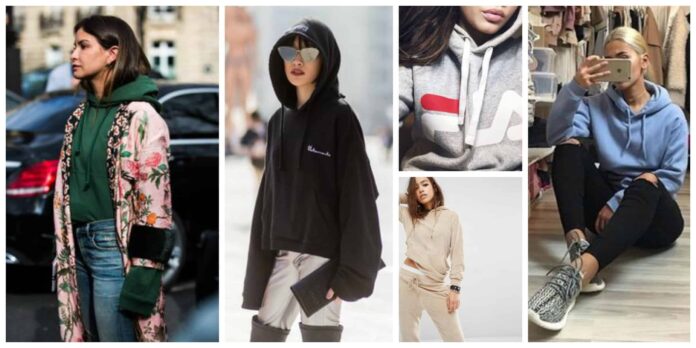 The lockdown followed by the corona pandemic has got a lot of outdoor birds stuck in homes, and things have been changed drastically in the last few months. Especially the wardrobes! They have been shifted quite entirely from all the sleek and stylish formal and office wear to the casual, cozy, and comfy sweatsuits and loungewear. Well, you must also be one of those who have got addicted to this comfortable oodie of yours! As the world is opening again after a long time, you don't need to worry anymore. Neither do you need to throw away all your comfortable clothes at the back of your closet nor start trying again to fit in your tight crop tops and jeans?
Here, we have some extremely cool ideas and hoodie styles to carry these winters:
Monochromatic sweatsuit with a blazer
Officewears are expected to be extra formal, but an elegant business casual combination of some neutral color hoodie with the same neutral color sweatpant topped with a nice and elegant blazer looks perfect for a busy office day. This luxurious combination makes you comfortable enough all day long in the office and takes you straight back in bed with the same outfit; just take off your blazer and enjoy a peaceful sleep.
Minimalist colors 
For an ideal dressing code, the less, the better when it comes to colors. When paired up properly with distinct colors or slightly different shades of the same decent color, anything you wear gives off luxury and elite vibes. Try out your favorite light color hoodie with the same color pants or leggings, add an oversized coat of the same color and see how magical it looks!
Try out a trench
Anyone who loves fashion and follows it by heart has a trench coat in the closet. Well, if you have one, put it on over your favorite sweatsuit and get ready for your lovely look that will definitely get you thousands of likes on your Instagram.
Hoodie and midi skirt
Pair up your oversized hoodies with some leather bottoms and enjoy the unexpected yet exceptional look it gives.
Wrap your sweatsuit in a long coat
Choose a dark-colored and perfectly tailored long coat and see how it turns an extremely basic outfit into a stylish and semi-formal outwear. Long coats have these magical powers of adding fashion sense into the most basic, casual, and slouchy outfits.
Style yourself with jeans
A right-sized hoodie with jeans looks amazing when combined with some heeled boots and a blazer. Try it out and see how stylish yet comfortable you feel in it.
Cover it with a leather jacket
A hoodie together with a leather jacket is a combination not meant for everyone, but it shows that you know exactly what to wear and how to carry your hoodies outdoors. Well, a black-colored leather jacket with black jeans and boots can be combined with various hoodies, and it looks perfect!
Conclusion
There is no restriction as casual loungewear or formal outwear; it all depends on how well you carry your dress and how creative you get with your fashion sense. Therefore, don't set boundaries for yourself and experiment to find the perfect magic in different outfit combinations. Lastly, hoodies can be carried well as outwear or even for office days, don't let anyone tell you otherwise!